AN ARMCHAIR TRAVELLER'S HISTORY OF TOKYO
by Jonathan Clements
This history of Japan's modern capital spans from the first forest clearances on the vast Kanto plain, through the wars and intrigues of the samurai era, and up to the preparations for the 2020 Olympic Games. Tokyo, meaning 'Eastern Capital', has only enjoyed that name and status for 150 years. Before then, it was the site of Edojuku ('Estuary Camp'), a medieval outpost designed to keep watch over rich farmlands. Known as Edo in the early modern period, the Tokyo region became the administrative centre of Japan's Shotgun overloads and the site of a vibrant, vivid urban culture of theatres, taverns and brothels. After the Meiji Restoration in 1868, it became Japan's true capital, home to the emperors, the seat of government and a site of rapid urban growth.
Jonathan Clements is the author of many books about Japan, including A Brief History of the Samurai. Since 2016, he has presented Route Awakening, a National Geographic TV series about icons of Chinese history and culture. Author of Nelson of the East: Admiral Togo and Prince Saionji: Japan.
Publication Date: October 2018
RRP: £12.99
212 pp
HB
9781909961586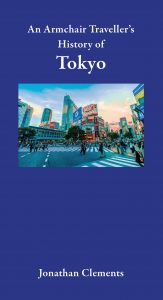 'Clements' skillset – Asian specialist, linguist, historian and foodie – might have been designed specifically for his newly published Armchair Traveller's History of Tokyo, combining as it does a history of the city from a time of myth, conjecture and hazy record to the current year 2018 with a gazetteer containing a selection of the sights and attractions of the city.'
– Helen McCarthy, All the Anime